Exchange Student Jara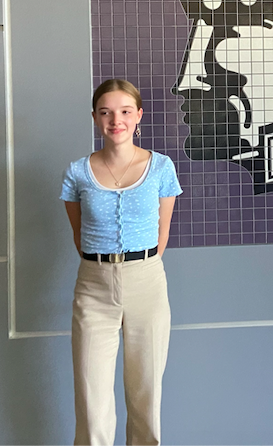 Jara Zimmerman is one of the several foreign exchange students Salida High School has been lucky to welcome this year. Zimmerman came to Colorado through the World Exchange program. Exchange Student Director Maggie Falconi is in charge of all things international students. Zimmerman is a sophomore and has been in Salida for about three months. She is originally from Halle, Germany.
 "I didn't have many expectations," said Zimmerman. "It is kind of how I thought it would be with the school spirit and stuff." 
So far, her favorite class is Psychology, and her favorite teacher is social studies teacher Fred Maxwell. 
Zimmerman has three brothers. Her family is incredibly funny and likes to joke around. While she is visiting Salida she is staying with a host family. Emma Sexton, a member of her host family, is currently a freshman at SHS. She described Zimmerman as kind and helpful. 
Sexton also said, "Having a foreign exchange student is really strange because you are sharing your home with a complete stranger."
During her stay in Salida, she has been a part of the cheer leading team, but back in Germany, Zimmerman played badminton. She said that she really likes the school and the school spirit that's been displayed during her time here. 
She also said that her best experience in the United States so far has been when they traveled to Denver and went to a baseball game. They even caught a ball. Zimmerman also said that she hasn't really had a bad experience so far. She also said that she didn't have many cultural shocks, but that she thinks the food here is very unhealthy.
 "Yeah I will definitely miss the school spirit, and that everyone is so nice in America and how teachers have a good relationship with the students," said Zimmerman.
Zimmerman will be returning back to Germany in late December.