Thank You Scheffel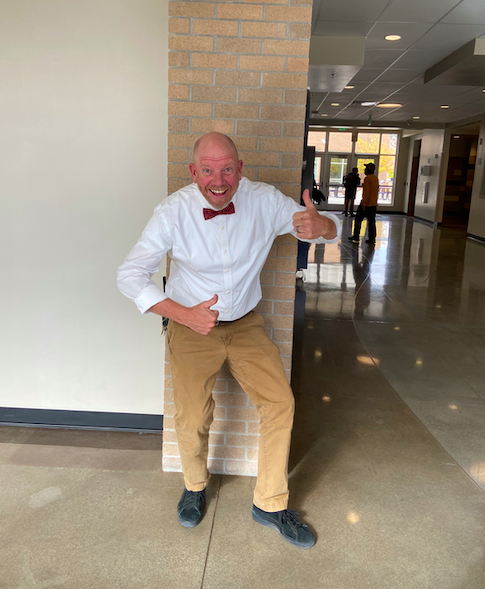 Dean of Students, Cory Scheffel, is one of the main pieces of the SHS puzzle. As someone responsible for dealing with all student needs, he ensures he's establishing and building a healthy and positive environment. Scheffel does a lot for our school, and he deserves some appreciation.
Scheffel has been Dean for three years. Since taking the job, he hasn't really had a normal school year. During the first year of his job, COVID-19 hit. His second year was a year filled with un- certainty amongst in-person learning in a global pandemic. This year has been the most normal out of all of them. Before coming to SHS, he was a 6th grade teacher at Salida Middle School. In total, he has been teaching for 21 years. He attended Fort Lewis College where he received his En- English degree. Before Scheffel became a teacher, he was the manager for a brewery.
"I had this moment at like 5am when I was mopping the floors, that was like I don't want to do this for the rest of my life".
After his revelation, Scheffel went back to Fort Lewis and got his teaching certification. He was still living in Glenwood Springs when he started looking to get a master's degree. The principal in Glenwood suggested he pursue educational leadership. So, he got his master's degree at Adams State, in Alamosa. Unlike most colleges, Schef- fel got a unique experience of getting to really teach one on one with students, while still in college. He still has a picture of his first ever students hanging in his office.
So how does Scheffel create such strong bonds with students he's with?
"Just being real," he said.
He explained that some- times just being one on one with a kid can be huge. He said that his greatest success in all teaching over the years is seeing a kid overcome something. "And I've always liked people; always been able to talk," Scheffel said that he deals with his own personal stress by talking with his wife.
We are grateful to have him a part of SHS.