True Love Endures
Haley Hume:
Summer love springs up between two staff members of the Salida school district! Haley and Jacob Hume were married on the 19th of June 2021. They first met in college when their rooms were across from each other, and became best friends. Jacob Hume was a year ahead of Haley Hume.
They were best friends for about a year, but then decided to give dating a try. Jacob Hume first asked Haley Hume to date him at a high mountain lake. They were together for eight years before getting married.
Jacob Hume proposed to Haley Hume when they were going to cut a Christmas tree over by Ohaver Lake. The proposal was only a little bit of a surprise. "I knew he had a ring, but I had no idea when he would actually propose." Haley Hume said.
Their wedding was a country classic theme, and they all wore Cowboy boots, and hats. When it comes to them both having jobs at Salida Schools Haley Hume said it's great. She said that having the same work schedule makes it perfect to plan things. Not only that, but their relationship has an environmental buff, as they've started carpooling to school most days! The strongest relationships are built on trust, kindness, and friendship. Haley Hume explained that "he started out as my best friend, and a foundation built on that is what creates a stronger love connection!"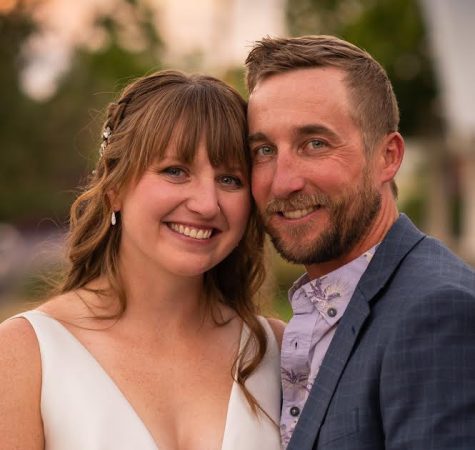 Chelsea Carpenter:
Wedding bells ring for another teacher at SHS. Chelsea Carpenter and her husband Ryan Coulter got married Sep 18, 2021.
Carpenter met her husband while working as Raft guides on the Arkansas in the summer of 2013. They started dating a year later in the summer of 2014.
Since, Carpenter started working as a math teacher at Salida High School, teaching Algebra II and AP Physics.
They got engaged in October of 2020. Coulter proposed while they were mountain biking on the trail Cottonwood. The sun and weather were just perfect, and the moment was magical. "We had talked about getting married, but I had no idea he was proposing that week," Carpenter commented, smiling. They had stopped on the top of the Rumba Ridge and Coulter set up his phone to take a photo. Instead, he got down on one knee, filming his proposal.
"It was perfect," Carpenter mused.
The theme of their wedding was whimsical woodsy. They held their ceremony on the river at RMOC, and the reception was at A Church.
They spend a lot of time outdoors together. They both love to snowboard or bike together, which is great for their relationship. They love spending time outdoors, and it provides them a healthy way to pass the time. Carpenter gushed over her new husband, and she is excited for this new chapter of her life.