SHS Teacher Fred Maxwell Returns from Sabbatical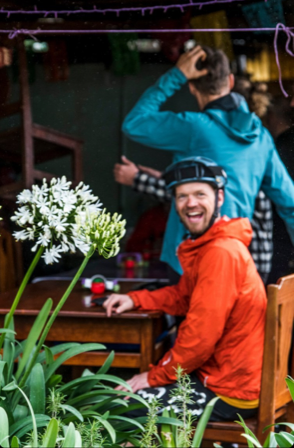 This past year Salida High School teacher Fred Maxwell took a leap into the unknown, embarking on a sabbatical year: full of learning and gaining perspective through travel, book studies, exploring new topics and gaining experience from others. The year away from teaching was highly beneficial for Maxwell and his teaching career, he said. He is back at SHS this year with more passion and excitement than ever before and with new concepts that he is excited to share among his students and fellow staff.  
The idea of going on a sabbatical wasn't something Maxwell had been planning for in his career or something he really knew about. When he heard about the option, Maxwell was intrigued to learn more about the opportunity.
"I was just looking for the next adventure and was thinking of some possibilities that I could do to keep my life interesting and engaging," said Maxwell. "It was just to get a little perspective on my job as a teacher, to change environments, so that I could keep the passion alive and stay invested in what I'm doing." 
The opportunity for a sabbatical year wasn't just handed over to Maxwell. In order to request a sabbatical, teachers must have taught for at least seven years and could not be within five years of retirement. They must also commit to teaching for three years after returning from their sabbatical. In addition to these requirements, Maxwell was instructed to assemble a proposal to then present to the school board with his plan and how it would benefit him, as well as the district. 
"(A sabbatical) is part of our district policy; however, it is not guaranteed," explained Maxwell. "You have to apply and design a plan and present to the school board and the superintendent about what the district is going to get out of it. It's a great thing, but the school is also a business that (the school board) is running, so I needed to make sure that this helped the school district and was a good business decision for them. It's great for me personally, but I had to present how it was going to help – one, the students, two, the staff and three, the school district.
Going on a sabbatical isn't super common for high school teachers and definitely not for staff at SHS. Maxwell had never heard of another teacher taking a sabbatical year at SHS. He did say though, that sabbaticals were more common at a collegiate level or even in the medical field. More often than not, teachers go on a sabbatical to earn an additional degree such as a Masters or PhD. However, this wasn't the case for Maxwell as he was looking at other ways to spend his time while on leave. 
"I already have a masters degree, so it didn't really benefit me to go into debt by taking out student loans to get another degree. I presented a more non-traditional route to the school board that didn't involve just getting some sort of certificate from a school of higher education. I created my own path, and they supported me in that." 
Going into his year away from SHS, Maxwell had several larger scale goals and some more specific ones for himself, to help guide him in managing his time. His larger goals included simply stepping away to gain perspective on his job and career in general, and to make sure he was able to keep his passion in teaching. Maxwell also wanted to gain some more content knowledge to bring back to his classes and go deeper into specific topics he was interested in.  
"I wanted to be able to have time to invest myself specifically in world history and psychology. I also wanted to have the time to enrich my own content level by being around different people," Maxwell explained. "I'm in a unique position where nobody teaches the classes that I teach in our district. So, I never get to really bounce ideas off of people who are teaching the same stuff as me until I go to a conference or I meet someone from another district. This gave me the time to make connections with people from other districts and better myself in my content." 
Along with connecting with other teachers, Maxwell lined out many other activities to better himself as a teacher and continue to learn as a student. 
"I did a silent meditation retreat, so I got to spend seven days in silence which I had never done before and that was just to see what it was like. I traveled to a cultural historical spot outside of Oaxaca, Mexico to study some of the early Zapoteca remains while riding bikes. I was able to work with an archaeologist in the San Luis Valley and study some heritage sites that are part of our local history. I had a great book study with Ed Lambert and Chuck McKenna; we met once a week, and we picked books that were usually about history or psychology, like neuroscience." Maxwell further explained.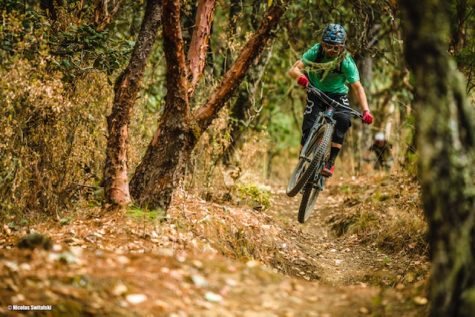 "I got to travel through the Pacific Northwest and guide mountain bikes. I got to work as a dirtbike trail ranger as a summer job in northern Idaho. There's so much. I got to take classes at Adams State, some college classes. Most importantly, I got to have the time to where I woke up every single day, and I laid out a plan to do the things I am 100 percent interested in."
Though that all sounds like loads of fun, waking up in the morning and making sure he was able to engage in something important and worthwhile, still had its challenges. 
"A lot of the sabbatical is high pressure stuff. If there was a day that I didn't engage in something it felt like a waste of day. This is a once in a lifetime opportunity and every single day I will never get back again. Sabbatical is a super powerful thing, but I also think it's a hefty responsibility."
Many questioned and doubted Maxwell whether he would return after his sabbatical, but the choice was clear for him all along: he would definitely be coming back, and would do so with enthusiasm for the upcoming year. 
"(Going on sabbatical) was the safest way I've ever gained perspective in my life. I didn't have to give up anything that I hold dearly, like my career. I didn't have to quit a job to gain perspective. I got granted time away so that I could. It was a really easy decision to come back. My career as a teacher is what I love doing. I love learning, I love being around kids, I love the energy. So it just showed me just how much I love it." 
Maxwell looks forward to presenting to the school board again about what he gained from his sabbatical experience. This is his way of showing them that the risk they took to grant him the sabbatical was the right choice. He will explain the new content he plans to implement in his classes as well.  
"When we get to the brain part in psychology, there's a book study that I did with Ed and Chuck and it's called "The Brain that Changes Itself." It's about human optimization through brain plasticity and I want to really get into this with students. I want them to understand that human optimization is a measurable quantifiable scientific thing that they can implement in their life through this neuroscience practice. For AP World History I think I will implement some of the stuff I learned in my brief stint at Adams State and then also from talking with some other historians who teach the class. I want to include some more of that local history as well. Just the actual Native American practices, techniques and interactions in Colorado specifically, I want to incorporate that more into what I'm doing and how I present some of the content I'm going through."  
Though Maxwell's sabbatical did overlap slightly with the events surrounding COVID, he was able to make the most of it. He helped out by organizing groups of people in the community towards COVID relief efforts. He also aided with local food shares and did grocery shopping for those in need. 
"It was March when school was out, so I made it almost a whole year on my sabbatical. I'm grateful to have had COVID as a part of the sabbatical and to have gained the perspective that it brought, he said. "I don't think it interrupted the sabbatical, I think it was part of the sabbatical."
Maxwell's sabbatical this past year was incredibly eye opening for him and was a wonderful opportunity to gain perspective on what's important to him, he said. He was able to participate in many adventures and experiences that he will carry into his teaching career. With the new uncertainties surrounding public education and COVID, Maxwell said he will continue to be invested in teaching students at SHS with enthusiasm and excitement.
"I feel teachers are needed now more than ever. I think with COVID, while I recognize it's a scary thing and we have to follow all the protocols, I want to be around students. I want to help the community in that way. COVID and my sabbatical combined to make me want to be teaching in our district even more than before."