Sports Seasons Proceed
Last fall, numerous sports were canceled or postponed. Now, the state has decided to approve sports, but they come with many variances.
Sports have been sectioned into seasons A, B, C, and D. Season A contained fall sports that weren't canceled, season B is winter sports, season C is mostly fall sports that were postponed in the fall, and season D includes spring sports.
"It's really weird having football in the Spring because football is a sport that happens at the beginning of the year," freshman Benjamin Clayton said. He is involved in basketball, baseball, football, and golf.
Football, along with volleyball and boys soccer, is one of the sports that have been moved from the fall to the spring.
"The teams had to show that masks would be worn," sports director Jim Coscarella said. To approve the season, CHSAA had to show the state that athletes would be wearing masks. For indoor sports, they must be worn while actively participating and on the sidelines, and in outdoor sports, masks only need to be worn while athletes are on the bench. Spectators and coaches must wear their masks at all times. "Wearing masks when we have to play makes it a lot harder," Clayton said. "Masks make it difficult to breathe and understand your teammates."
To combat this, Coscerella purchased special masks from CHSAA. "I reached out to the company which is in Brighton, and they sent me some information on it, and it seemed like it was a good fit," he said. Coscerella first found out about the company through an emailed flyer from CHSAA suggesting it for sports. The mesh masks pass all the CDC recommendations while being more comfortable and easier to breath in then regular masks. "They're more pricey, but you can wash them up to 70 times. I think when you look at the benefits of it, it outweighs the cost," Coscerella said.
Swimmers have also been affected by COVID. "We've been having a really hard time finding meets because there are maybe like five teams competing right now," sophomore Charlie Messa said. Competitions and games for school sports have changed a lot now, and swimming is no exception. In previous years they have had one or two meets per week, but now they have only had three throughout the whole season. They also only have away meets this year because the pool isn't allowing them to use it for meets.
The team still trains at the hot springs pool, but they have to wait until after the pool closes to start practice. They are allowed to take their masks off before they swim, but they usually get wet anyways. They also can no longer use the bathroom to change or shower before and after practice. "It's kind of weird having practices at six because that's like dinner time," Messa said.
"I'm keeping my fingers crossed and hoping that it turns out the best for the kids, which I don't anticipate us having to cancel anymore sports," Coscerella said. He expects that seasons C and D will start soon, and doesn't believe that it is likely that they will be canceled or postponed again.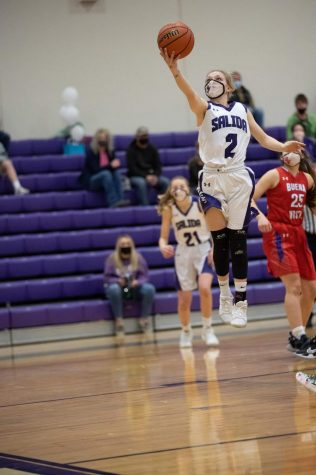 Despite the challenges that have come with doing sports during COVID, both coaches and players have worked hard to adapt to the new circumstances, preserving the fun of sports while staying safe.