Students and Teachers Adopt Pets during Quarantine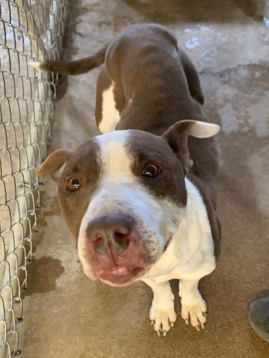 Since the beginning of the COVID-19 pandemic, the numbers of dog and cat adoptions are on the rise all over America. The stay at home order in March provided the perfect opportunity to adopt an animal. This extra time in place of work, school, and sports, created a great window to be able to spend the most time with a new pet. 
Chelsea Carpenter, a math and science teacher at SHS, adopted a new dog as well over quarantine. Carpenter was planning on adopting a dog before quarantine so that her other dog could have a companion. She also wanted a friend for her other dog she got before quarantine. The six months home from school provided the perfect time to adopt and train a new dog.
Carpenter said, "He was potty trained in like a week." 
Carpenter named her puppy Marly. Marly is a border collie mix farm puppy, now nine months old. Carpenter said that Marly is a very good dog, and she's very happy with the adoption. 
Abigail Cooksey, a math teacher at Salida High School, was thinking about adopting a second dog even before the stay at home order was enforced. When it was evident that she wouldn't be at school for a while, she took the opportunity to adopt a rescue dog named Daisy.
Daisy was about a year and a half when Cooksey adopted her in May from the Monte Vista shelter. She is an adorable pit bull mix who loves to cuddle. 
Cooksey said, "We wanted to get a dog that was trickier to find a home for." Because of the stigma around pit bulls and the fact that she was significantly underweight, Cooksey wanted to give her a good home. Juniper, Cooksey's other dog that she had before the stay at home order began, is also a rescue. Another reason Cooksey wanted to adopt during quarantine was to give Juniper a friend. Daisy is mellow and sweet and she loves to cuddle. 
Not only have teachers adopted pets during this time, but some students have as well. Junior Kaya Schwarz was thinking about adopting a dog a long time before the stay at home order was enforced. She didn't end up adopting until the end of quarantine. Schwarz needed something to do, and what better way to spend her last few weeks of quarantine than to train a new dog. 
"I was really bored, especially near the end of quarantine, so that was a lot of the reason we decided to adopt a dog," she said.
Schwarz's dog is named Stetson. The people Schwarz adopted Stetson from named him after the type of hat. 
The company of a loyal companion is a great way to keep sane during these times, and the stay at home order created the best window of time to stay at home with a new pet. In this time people were able to train, bond, and care for a pet better than if they had to go to school or work. Many more dogs and cats are being adopted from shelters and animal rescues. All going to show that sometimes good things can come out of having to stay at home for a while.