Student Entrepreneurs
Look at where they started and where they are now. Three young entrepreneurs from Salida Schools turned dreams into a reality and hard work into cash. Caleb Ediger, Myka Daughtery, and Sydney Berggren are owners of three unique businesses with goods, services, and ambition.
Senior Caleb Ediger, Owner of Caleb's Supercut Lawncare, started mowing lawns when he was eleven hoping to make a little cash. In seven years his operation has grown from a boy with a lawn mower to a young man with a state LLC, a company truck, a complete lawncare set-up, and hats.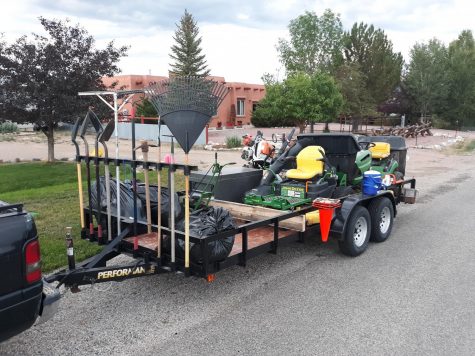 "I did it just to earn a little money when I was younger, and it's blown up," Ediger laughed.
Ediger has built up a substantial clientele in the Salida and Poncha Springs area, and plans to stick around after high school and continue to grow his company. Ediger admitted that time management and communication skills were some of the hardest lessons to learn but the most important.
Take it from a well learned entrepreneur, "When you first start the business you might not think it will work out," Ediger says, "but you just gotta keep going."
Junior Myka Daugherty's art has been a school favorite for a few years now, her collection boasting clay boob pots, mushroom crystal pendants, and multiple 2D medias as well. The mushroom crystal pendants are the newest addition to her merchandise.
"One of my biggest passions is geology and crystals in general as well as art, so finding a way to combine those and getting other people to be inspired by rocks is really empowering to me," Daugherty said.
"I've been drawing since I came out the womb," she chuckled, "I think everyone was given a crayon when they were younger, I've just stuck with it." Inspired by a girl in her class, Daugherty began creating with clay around fourth grade, and has sold her work since elementary school as well.
Daugherty started selling her art to make a little money, and to find a way to interact with what makes her happy and introduce that to other people.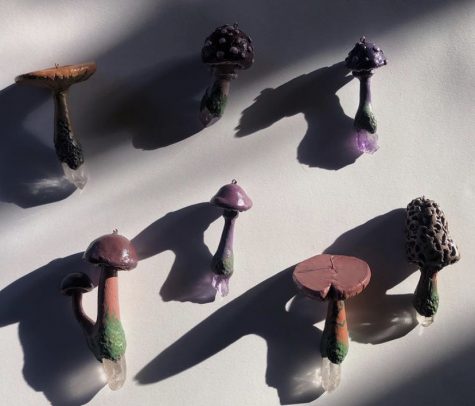 She started doing this just for fun, "but at the end of the day art is the reason I was put on the planet."
She primarily advertises her art through social media and word of mouth, thanks to her friends who, "talk about my art behind my back."
After high school Daugherty plans to at least minor in geology and attend art school right out of college.
Like all artists Daughtery has struggled with the idea that maybe her art isn't good enough or it isn't a feasible career, but has come to acknowledge that ultimately, "it just matters if it makes you happy."
It is hard not to notice the unique necklace dangling from Sydney Berggren's neck. A beautiful entanglement of pearls, beads, and an old key it instantly attracts the eye.
Scorpio up in Flames, a business that sells eccentric and intricate jewelry made from used materials, is the creation of junior Sydney Berggren. Berggren began making jewelry at a ripe young age, and has turned her creative outlet into a source of income and a way to share her art with the world.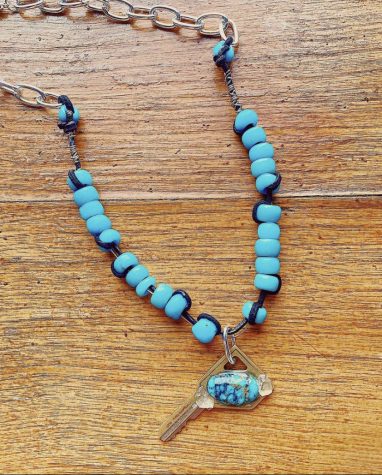 "I've just been [repurposing jewelry] with all my freetime so I thought why not make things for other people and take old pieces that people have and make them into something they would actually wear," Berggren said.
She primarily runs her business through Instagram and word of mouth. It started with commissions for her close friends, and has grown into its own account.
Working downtown at Howl Mercantile and Coffee has significantly helped Berggren understand her intentions for her business and its role in her life.
"Learning about being an entrepreneur and having your own business has been the biggest part of me wanting to leave high school and start something of my own."
As well as continuing to produce her current products, Berggren is considering learning to weld and make her own pieces completely from scratch.
Despite her quick growth, Berggren has struggeled balancing schoolwork with her love for jewelry.
Berggren is elated to be sharing her craft with the world and wants to convey her love for jewelry and help others find the styles they love too.