BREAKING: Ossoff and Reverend Warnock Elected as Senators of Georgia, Senate Control flipped to Democrats
On January 6, Democrats Jon Ossoff and Reverend Raphael Warnock won the Georgia Senate runoff election, swinging control of the higher congressional chamber to the Democrats, and giving them control of the entirety of congress. They defeated incumbent Republicans David Perdue and Kelly Loeffler, marking a huge swing in a state that has long been considered a Republican stronghold. Ossoff and Reverend Warnock will be the first democratic Senators Georgia has had since 2004, and the first time two democratic senators have served since 2002. Reverend Warnock will be the first black Senator in the history of Georgia, and the 11th black Senator in the history of the United States.
Reverend Warnock is the senior pastor at Ebenezer Baptist Church in Atlanta, Georgia, the church that Martin Luther King, Jr. was a pastor at, and former Representative John Lewis's church. He first came to political prominence as a vocal proponent of the Expansion of Medicaid under the Affordable Care Act. He describes himself as a "pro-choice Christian", and gave the benediction at the second inauguration of President Barrack Obama. His opponents have accused him of using the pulpit as a soapbox, and for preaching antisemitism. He was called a "radical liberal" by Loeffler, and she cited a sermon he gave where he appeared to say that, "You can't serve God and the military at the same time." Reverend Warnock denies all these accusations and says that quote was pulled out of context.  Much of his campaign has focused on civil rights and a $2,000 stimulus check. Ossoff lost an unprecedentedly close election in Georgia's 6th congressional district, which had long been considered a Republican stronghold, finishing only 3 points behind Representative Karen Handel. He's been described as having "progressive positions on women's issues and health care" and "moderate stances on jobs and security."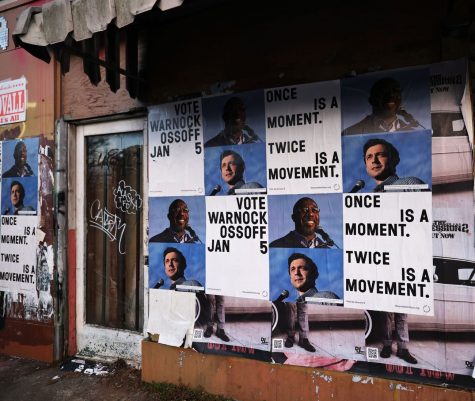 Loeffler was appointed to be a Senator by governor Brian Kemp after the resignation of Senator Johnny Isakson in 2019. She co-owns the Atlanta Dream, a WNBA team out of Georgia and was previously the CEO of Bakkt. Loeffler has often been described by her strong conservative values and voting record, stating that she has a "100% Trump voting record", and is reportedly the richest Senator. She has a strong allegiance to President Donald Trump, and recently joined a dozen other Republican senators, led by Ted Cruz of Texas and Josh Hawley of Missouri, in a pact to object to the electoral college votes declaring Joe Biden president-elect. She is pro-life, supports the repeal of the affordable care act, and has received an "A" rating from the NRA and the Gun Owners of America. Perdue was first elected in 2014. Before, he became senior vice president of Reebok and was the CEO of Dollar General. He has been a big critic of the US's response to climate change and rejects the idea outright. He also opposes the ACA, is a strong ally of Trump, and advocates for an isolationist immigration policy. He was also accused of antisemitism from Ossoff after it appeared that his campaign published an ad featuring a picture of Ossoff with an enlarged nose, playing into old antisemitic tropes. Perdue claims that he didn't see the ad, and his campaign pulled it. Both senators were recently embroiled in the 2020 congressional insider trading scandal. After private briefings around the coronavirus due to members of the Committee on Health, Education, Labour and Pensions, it is alleged that they violated the STOCK Act of 2012 by selling stocks in companies before the stock market crash of February 20, 2020, using knowledge granted to them in these private committee briefings. The investigation stopped on May 26, and no one was charged. 
In November, Georgia unexpectedly voted for President-elect Joe Biden, marking the first time a Democrat has won the state since President Bill Clinton in 1992. This could be attributed to many things, but most theorize it is due to higher turnout amongst urban, Black and poor population, as well as a general malaise around President Donald Trump. Most of this was due to a large scale Voter Registration movement led by former Democratic Georgia House Minority leader  Stacey Abrams. Abrams was also the Democratic nominee for Governor of Georgia in 2018, where she lost to Republican Secretary of State Brian Kemp by less than 55,000 votes, making the race one of the closest in modern history. The election was marred by accusations of voter fraud by Brian Kemp, who retained his position as Secretary of State while running, and therefore was responsible for overseeing the election. There were many irregularities in voting, all of which disproportionately hurt black Georgians, including a court ruling that stated that Gwinnett County had violated the Civil Rights act. However, Abrams eventually ended her campaign, and an investigation from The Atlanta Journal-Constitution found "no evidence … of systematic malfeasance – or of enough tainted votes to force a runoff election". This led Abrams to create Fair Fight Action, an organization aimed at fighting voter suppression around the country. This organization, and actions by Abrams specifically, have been credited with not only flipping Georgia blue but influencing voter turnout in at least 20 other states. With this continued effort by Southern Democrats and continued enfranchisement of black southerners, many believe that Georgia, along with other southern states, could turn into swing -or even blue- states.
Many say this election was one of the most important in modern history. With Reverend Warnock and Ossoff emerging victorious, this ousts Senate Majority Leader Mitch McConnell of Kentucky and gives Democratic Senate Leader Chuck Schumer of New York the Majority, and gives Democrats complete control of all elected branches of the federal government for the first time in 10 years. This will allow Democrats to pursue an ambitious and progressive agenda. The last time Democrats held all three branches, they passed the ACA, the most substantial change to healthcare since the introduction of Medicaid and Medicare. Many speculate this will give president-elect Joe Biden the political capital to pass his Bidencare plan. This could also give progressive leaders like Senators Bernie Sanders of Vermont, Elizabeth Warren of Massachusetts, and Ed Markey of Massachusetts the votes they need to push legislation like Medicare for All, a Green New Deal, and Student Debt cancelation.
Reverend Warnock and Ossoff won with about 50.7% and 50.3% respectively. Perdue and Loeffler finished with about 49.7% and 49.3% respectively. Reverend Warnock and Ossoff will be sworn in soon after the state certifies its results, likely after the January 22 deadline. The race was called for Reverend Warnock shortly after 2 in the morning, and the race was called for Ossoff at 2 in the afternoon.