BREAKING: Armed Pro-Trump Rioters Storm Capitol, 5 Dead, at least 14 injured. Biden officially President-elect
UPDATE: On January 7, after reconvening and debating objections to the votes from Pennsylvania and Arizona, the Electoral College vote was finally counted, officially enshrining Joe Biden as President-elect. In a statement, President Donald Trump acknowledged his loss and committed to a peaceful transfer of power. More than six of the 13 senators that planned to challenge the win recanted after the Capitol was stormed, including Senator Kelly Loeffler, who just recently lost her election in Georgia. Some Republicans stayed strong, including Florida Representative Matt Gaetz, who claimed that the rioters were actually Antifa super-soldiers masquerading as Trump supporters.Many Trump administration senior officials have stepped down due to the siege, including Transportation Secretary Elaine Chao, who is married to Republican Senate leader Mitch McConnell, and Education Secretary Betsy DeVos, both saying he caused the attack.
An additional 4 people died on Capitol Hill, including a Capitol Police officer, and at least 14 were injured. The Capitol remains in disarray, with plywood over smashed windows, and lecterns overturned. Many lawmakers have had items stolen from their offices by rioters, including Senator Jeff Merkley of Oregon, who claims a laptop was stolen, his door was knocked nearly off its hinges, art torn off the walls and replaced with a TRUMP 2020 flag and cigarettes stamped out on the floor.
District of Columbia Police say two pipe bombs and a cooler of Molotov cocktails were found near the Capitol. They were found outside the DNC and RNC offices in a car, where a long gun also resided. There were also two separate reports of bombs at the DNC and RNC respectively, both of which were evacuated and the bombs diffused. Many details remain unknown or unconfirmed by DC Police.
So far Capitol Police have arrested around 80 people, and have started investigating President Trump and his supporters. The head of the Capitol Police and the Sergeants at Arms have all resigned. District of Columbia Muriel Bowser announced that she preemptively requested the deployment of the national guard, which was denied. Aids at the White House report that President Trump delayed the deployment of the National Guard for as long as possible, despite what he later claimed. He is reportedly on a retreat to Camp David in Maryland, only the second time he has visited in the last four years.
Vice President Mike Pence has told those close to him that he does not support the evocation of the 25th amendment to remove President Trump from office. Now 3 republican governors, Senators Chuck Schumer of New York and Bernie Sanders of Vermont, Speaker of the House Nancy Pelosi, and the entirety of the "squad" have supported its evocation. Many Democrats have signaled that if Vice President Pence refuses the use the 25th amendment and President Trump refuses to resign, they are ready to move forward with articles of impeachment. 
Representative Ilhan Omar of Minnesota, along with Representatives David Cicilline of Rhode Island, Ted Lieu of California, Al Green of Texas, Hank Johnson of Georgia, Vincente Gonzales of Texas, Mondaire Jones of New York, Veronica Escobar of Texas, Ayanna Pressley of Massachusetts, Rashida Tlaib of Michigan, Jamal Bowman of New York, Alexandria Ocasio-Cortez of New York, and Cori Bush of Missouri. Many Democrats also support removing Republicans who continued to contest the results of the election, saying they aided in President Trump's excitement. Representative Bush has already begun to draft legislation to do the same. The idea of a second impeachment also has supporters in the leaders of the Senate, like Democratic leader Schumer, who signaled that he would move to put a vote on the floor to remove President Trump and Senators Sanders and Ed Markey of Massachusetts. Representative Omar signaled that impeachment may happen on January 8th.
On January 6, 2020, in accordance with the counting of electoral votes and the day of Democrat's victory in the Georgia Senate runoff, pro-Trump armed protesters stormed the capitol building. Washington security formed a line of defense around the capitol building, where both chambers were debating the certification of electoral college votes, but a mob of protesters eventually broke through, and the vote on certification has been delayed. The Senate stopped operation, with Sen. James Lankford of Oklahoma being interrupted by an aid. As of around 7 p.m., lawmakers have been evacuated and are in an undisclosed location. Protesters had stormed the senate floor and intruded into offices, rummaging through desks, and stealing podiums. They stormed the Capitol in an attempt to burn the Electoral College votes certifying Joe Biden as President-elect.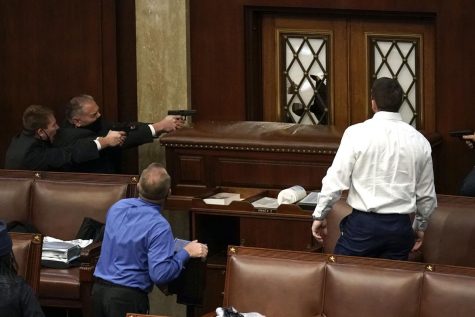 After a rally held by President Donald J. Trump in the national mall at around 2 p.m., a group of supporters attending the rally started marching towards the capitol building. Once they got there, their demeanor changed, according to D.C. Police Chief Robert J. Contee III, who was just sworn in on Saturday. A riot was soon declared as the intent of rioters became clear, and they started becoming violent and deploying chemical irritants including flash bangs on capitol police.
A person was shot and killed in the capitol building, and five more were sent to the hospital. The escalating tension and criminal activity of protestors led to District of Columbia Mayor Muriel E. Bowser (D-DC) to deploy the National Guard and to impose a citywide curfew of 6 p.m. Wednesday to 6 a.m. Thursday. D.C. National Guard joined Capitol Police, along with federal protective services, secret services, and police from Virginia and Maryland. Capitol Police has a force of around 1700 officers. 
Many have pointed out the disparity in the force used against these terrorists when compared to Black Lives Matter protestors. Many have commented on the imagery of protestors being tear-gassed so President Trump could take a photo, whereas now we have protestors occupying Nancy Pelosi's office with no substantial violence being used against them.  
Soon to be Senate Majority Leader Chuck Schumer of New York, House Speaker Nancy Pelosi of California, former President George W. Bush and president-Elect Joe Biden have all called on President Donald Trump to command protestors to leave immediately, calling it an insurrection.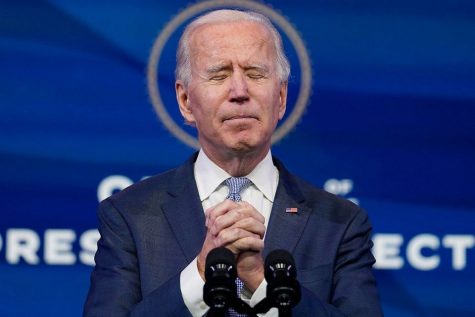 "I call on President Trump to go on National Television now, to fulfill his oath, and defend the constitution, and demand an end to this siege," said President-elect Biden. After, he continued and condemned the rioters. "To storm the capitol, to smash windows, to occupy offices, the floor of the United States Senate, rummaging through desks. On the House of Representatives, threatening the safety of duly elected officials. It's not protest, it's insurrection. The world's watching, like so many other Americans. I am genuinely shocked and saddened, that our nation, so long a beacon of light and hope and democracy has come to such a dark moment." President-elect Biden is safe at home in Wilmington, Delaware. Instead of condemning protestors, President Trump turned on his vice president for not throwing out electoral college votes. In a tweet, President Trump said, "Mike Pence didn't have the courage to do what should have been done to protect our Country and our Constitution, giving States a chance to certify a corrected set of facts, not the fraudulent or inaccurate ones which they were asked to previously certify. USA demands the truth!" He then asked protestors to remain peaceful and to respect Capitol Police but did not outwardly condemn what many have been calling a terrorist attack. This came after he addressed supporters in a DC rally and told them that, "We will never give up, we will never concede." He posted a video to Twitter, which the social media site found so objectionable that they disabled the like and reply functions on it "due to a risk of violence." After, due to this and two other tweets, Twitter locked President Trump's Twitter account.
"I know your pain, I know your hurt," the video starts. "We had an election that was stolen from us. It was a landslide election, and everyone knows it. Especially the other side. But you have to go home now. We have to have peace, we have to have law and order. We have to respect our very great people in law and order. We don't want anybody hurt." He went on to praise those rioting, saying. "We can't play into the hands of these people. […] We love you, you're very special."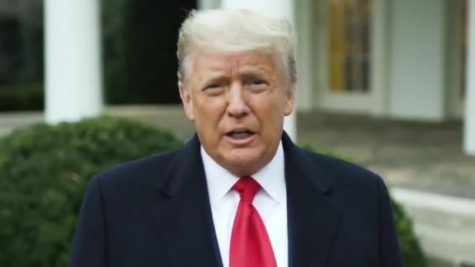 Some have called for the second impeachment of President Trump, including lawmakers like Minnesota congresswoman Ilhan Omar. Others have called on Vice President Pence to envoke the 25th Amendment and serve the remainder of President Trump's term. The 6 p.m. curfew has started, yet there are still no arrest warnings sent out as of yet. Officials say that the Capitol is secure, and House Speaker Pelosi, after speaking with Vice President Mike Pence and the Pentagon, has announced that the Electoral college vote will continue tonight at 8:00. As of 7:00, the grounds of the Capitol building have been secured. There is still the National Guard, Capitol and DC Police and others in and outside the capitol to secure it.